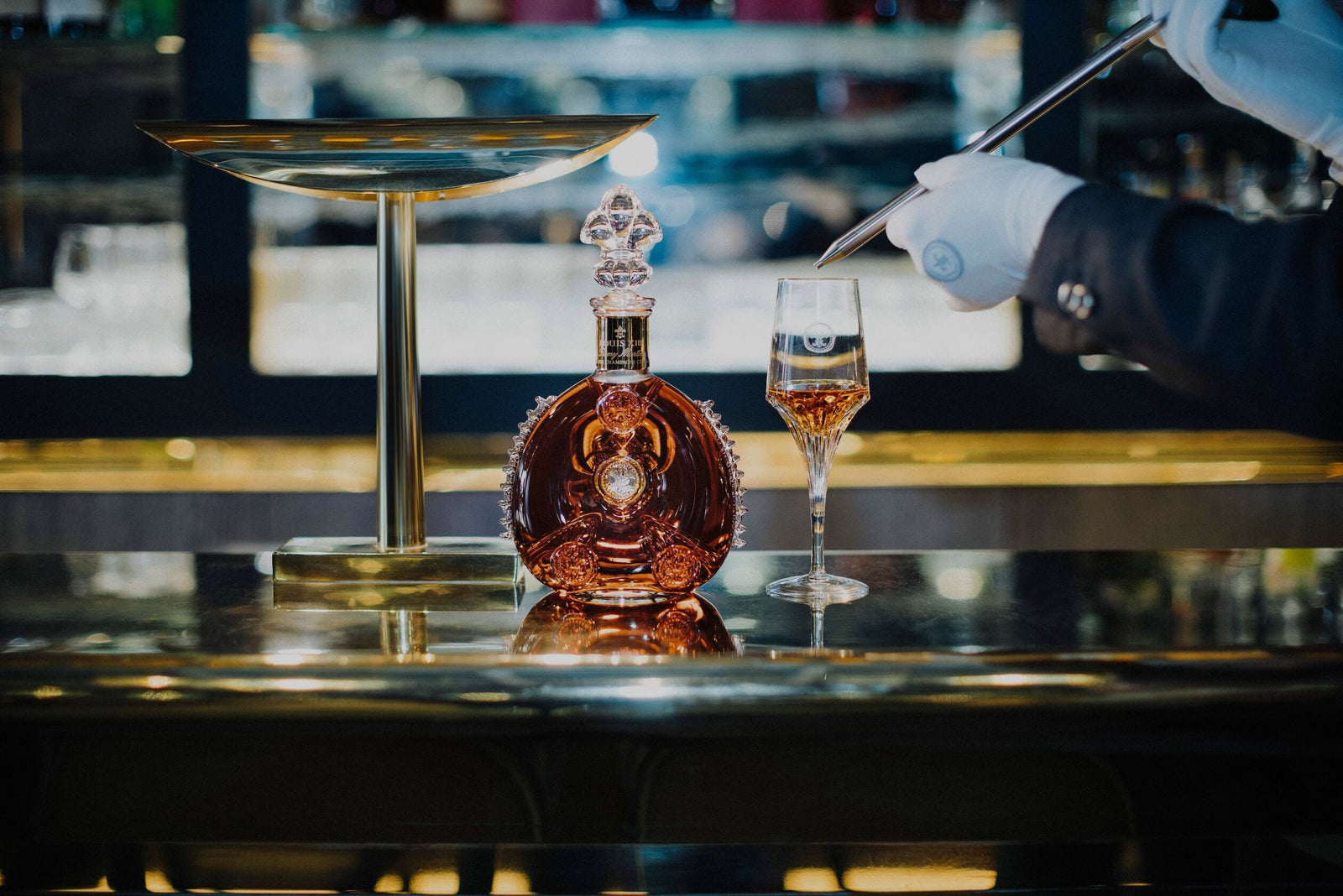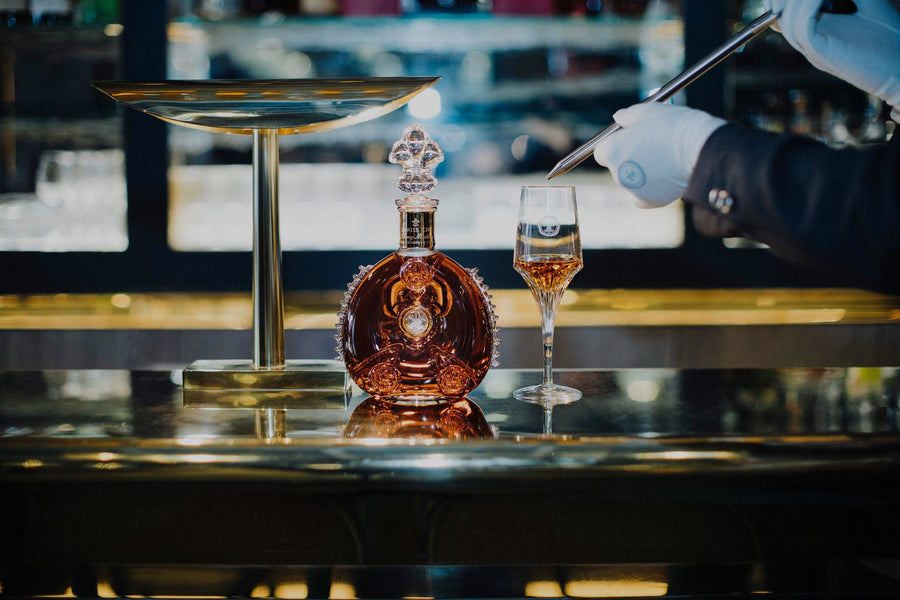 How to organise a
LOUIS XIII cognac tasting
Host your own unique cognac tasting ceremony
A LOUIS XIII cognac ceremonial tasting ritual requires time in order to experience the cognac's multifaceted aromas. Find the right moment to appreciate the life achievement of generations of cellar masters and artistry that has gone into every decanter of LOUIS XIII cognac.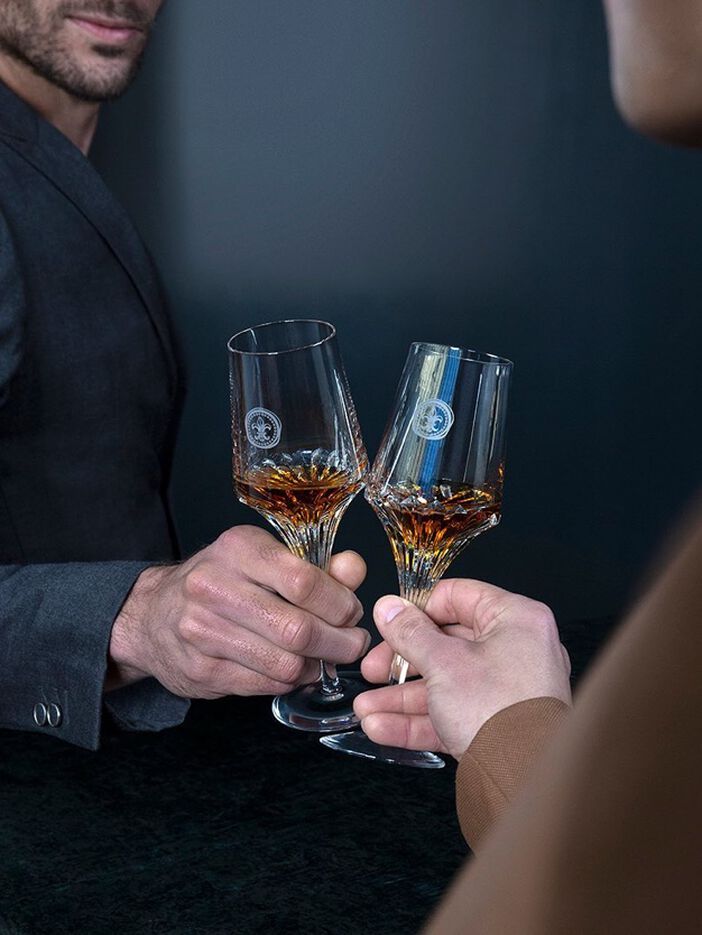 Savour the moment
Just as our Cellar Master knows when it's the right time for an aged eau-de-vie to become part of the blend for LOUIS XIII cognac, you will know when it's the right time to conduct a LOUIS XIII cognac tasting.

You may choose to enjoy the moment alone, or you may wish to organise a private tasting for a group of like-minded companions. Whatever the occasion, make sure you are free from all distractions. Allow plenty of time so that you can become fully immersed in the LOUIS XIII tasting ritual, savouring and appreciating the complex characteristics of LOUIS XIII cognac.

We recommend tasting LOUIS XIII cognac neat before dinner, as an aperitive. It is customarily enjoyed as an after-dinner digestif but we invite you to enjoy LOUIS XIII cognac at any time, whenever the time is right for you.
A multisensory experience
The LOUIS XIII cognac ceremonial tasting ritual begins with the eyes.
Release your LOUIS XIII decanter from its elegant coffret and allow the light to flood through the glass, highlighting the deep amber and mahogany hues, indicative of eaux-de-vie that have been aged in oak barrels.
The decanter is itself a sight to behold. With a unique shape based on a 16th-century flask found on a battlefield in Jarnac, France, each decanter is individually crafted and hand-finished with a stunning fleur-de-lys stopper.

If conducting a group private tasting of LOUIS XIII cognac, share the story of LOUIS XIII with your guests, allowing them to marvel at the lifetime achievements of generations of Cellar Masters that are inside every decanter.

Next, pour from 1 to 4 cl of the liquid into a LOUIS XIII glass. In fact, we recommend serving LOUIS XIII cognac in our specially-designed Christophe Pillet glasses: Facets of LOUIS XIII. These delicate tall-stemmed glasses, which are available to buy at LOUIS XIII boutiques, highlight the characteristics of LOUIS XIII cognac. For the perfect pour, use our dedicated LOUIS XIII Spear, a specially designed tool emulating the traditional pipette used by our Cellar Master to draw the aged eaux-de-vie from the barrel.

Once poured, hold the glass at arm's length, noting the rich hues and smooth sheen of this precious liquid. Then, bring the glass slowly towards your nose in increments, experiencing the light floral bouquet that gives way to more intense notes of wood and spice just as floral notes of dried rose with honeysuckle and jasmine. Then come fabulous notes of preserved fruits.

Now, there is a way of drinking LOUIS XIII. You savor one drop at a time, one single drop and let it crack between your lips. This will prepare your palate.

Circulate the rich liquid around your mouth to fully appreciate the wave of individual floral, fruit and spice notes that burst onto the palate, evoking myrrh, honey, dried roses, plum, figs, leather and more.

Take a second drop. It's a firework of aromas and flavors in just one drop: honey, fungi, walnut, …. And the texture, silky texture. The long finish ensures the LOUIS XIII cognac tasting ritual will not be short-lived, with bold flavours including jasmine, saffron and cigar box continuing to evolve on your palate for at least an hour after the first sip.

It holds aromatic crests and peaks. They rise in swells, each one echoing the next. The body is complex, so rich, so intense but not too heavy; it's in the air.

Let the multi-layered notes transport you through the history of the cognac, sparking your own deep-rooted memories along the way.

Each experience creates an intense moment of sharing, a moment during which we lay bare our innermost thoughts and feelings and awaken long-forgotten memories.

Now, your glass is empty. But the experience is continuing. The power of aromas remains for your glass. Keep it near you for a while and discover the new aromas coming.
The perfect toast
Ever since its creation in 1874, LOUIS XIII cognac has been served at many momentous occasions. Royalty, dignitaries and celebrities alike have marked great celebrations and achievements by raising a glass of LOUIS XIII cognac, so it's only fitting that the clinking together of two dedicated LOUIS XIII cognac crystal glasses produces a unique sound – a clear and lingering G-sharp note. It's a discernible reminder that this is no ordinary toast, and this is no ordinary cognac.
Where to find
Visit one of our boutiques, where we invite clients on a journey of discovery that will take you through the time-intensive process that is required to create every LOUIS XIII cognac decanter. Our boutiques have been designed to appeal to all the senses, showcasing materials and colours that express the singularity of LOUIS XIII cognac. Discover our boutiques.

LOUIS XIII cognac is available to purchase from luxury retailers and airport boutiques all over the world. To find a certified retailer near you, visit our LOUIS XIII store locator page.

Enjoy the LOUIS XIII cognac tasting ritual at selected luxury hotels, bars and restaurants worldwide. To find a venue near you, please use the 'Where to Find' search tool on our website here.

Purchase LOUIS XIII cognac, LOUIS XIII glasses and the LOUIS XIII Spear through our website