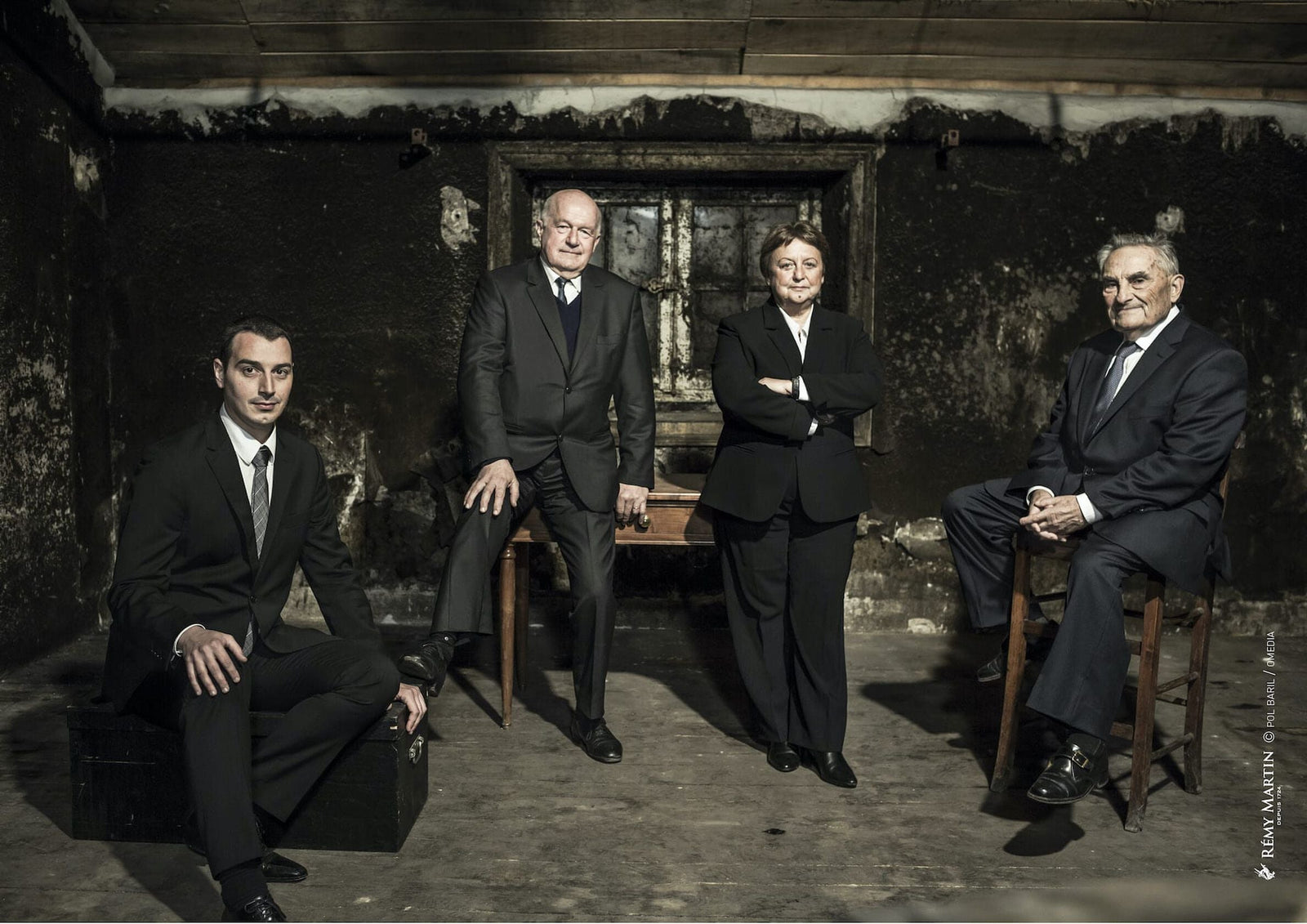 The Dynasty of Cellar
Masters
The fame of LOUIS XIII derives from the family vision that inspired Mr. André Renaud, Chairman of the House Rémy Martin from 1924 to 1965, and that of his son-in-law and successor Mr. André Hériard Dubreuil. The Cellar Master has always been chosen by the Chairman to carry on the unchanging heritage of LOUIS XIII. In charge of giving birth to this subtle and elaborate blend, he or she is an artist and visionary who passes on his/her know-how to the next generation
André Giraud
Mr Renaud's choice was Mr André Giraud, a 20-year-old apprentice at the time when the chairman first spotted his potential.The story goes that one day the chairman ordered the young man to taste a sample of eau-de-vie that distiller was offering for sale - in a spirit of mischief, because the young man has absolutely no experience in tasting. But he did as he was told, and said he thought the sample was tainted with petrol. And as it turned out, he was right. So the chairman set him on a path to learn what would eventually make him the next Cellar Master.For every Cellar Master, there is always an initial period of 'apprenticeship', working alongside the former. André Giraud was 37 years old when he was officially appointed. In the meantime, Mr. Renaud had taught him what he deemed necessary for the position : knowledge of the product, of course, but before that three years working in the vineyard - because above anything else, he had to know everything about the terroir.
Georges Clot
Mr. Giraud also had his successor work alongside him for many years. Mr. Georges Clot joined Rémy Martin in 1972. His previous experience in a laboratory had given him a unique and innovative perspective that would distinguish his contribution as a Cellar Master.Mr. Giraud, like former Chairman Mr. André Renaud, was born into a tradition of instinct and intuition, where every critical decision was a matter of personal judgment. Now the baton of leadership had passed onto Mr. André Hériard Dubreuil|, a chairman of the modern age. Previous generations knew very well how to distinguish a great eau-de-vie.The new chairman and his new Cellar Master also wanted to know the reasons for such distinctions, in terms that only scientific expertise could provide. The partnership between Mr. Giraud and Mr. Renaud was devoted to the enlargement of inventory, and a new level of its organization. Mr. Clot's special contribution, when he graduated to Cellar Master in 1990, was to introduce the information technology that opened this huge and precious inventory to inspection and control.
Pierrette Trichet
Pierrette Trichet had already worked many years with George Clot when he retired in 2003. Mrs. Dominique Hériard Dubreuil recognized her talent and appointed Mrs. Pierrette Trichet as the fourth Cellar Master.For over a decade, Pierrette sampled, noted and watched over thousands of eaux-de-vie from which she chooses to compose Remy Martin cognacs. She has also presided over the rarest discovery of them all: LOUIS XIII Rare Cask, a moment of true intensity that is a high point in her career.
Baptiste Loiseau
After 38 years at the House, Pierrette Trichet has decided to pass the baton to Baptiste Loiseau, to whom she has carefully transmitted her expertise.A new generation steps up to carry the master's savoir-faire into the future and maintain the perfection for which the House of Rémy Martin is renowned. Today, Baptiste Loiseau works with the old eaux-de-vie selected and aged by his predecessors at the beginning of the previous century. He also selects the eaux-de-vie that will go into its composition of LOUIS XIII a century from now. The whole future of the House of Remy Martin depends on his art and talent.